Artificial Academy 2
From Hgames Wiki
all characters are at least 18
---
Artificial Academy 2 [edit]
External links
Artificial Academy 2 (ジンコウガクエン2, Jinkou Gakuen 2) is an eroge high school social simulation, sequel of Artificial Academy and released by Illusion on June 13, 2014.
Create and play any of up to 25 students of varying gender, orientation, social complexities and personal inclinations. Play the same or a different character each day and shape your academy adventure. Make friends, enemies, rivals and lovers as the class competes for achievement in academics, athletics, popularity and romance.
New Features
Teacher Role
Select a character to play as the class teacher. Form friendships and even romances between teacher and student but be careful not to get caught doing anything naughty, or risk getting the teacher fired.
Weekends
Enjoy shorter school days on Saturday, and have some fun or go on a date with a classmate on Sunday.
Expanded relation statuses
AA2 brings a total of 61 possible opinion statuses between characters and up to 4 can be in effect at any given time.
Overhauled H
Ero play (H play, or simply H) contains new features like H compatibility, pregnancy risk and condoms, private rooms where the player can't be disturbed and even three-way and forced H.
Exams and Evaluations
If you need some extra motivation maybe a "lewd promise" will help.
And More
New interaction types and daily activities
Expanded character creation and social traits
Graphics and interface updates
System Requirements
Minimal
Recommended
OS
Windows Vista / 7 / 8 (x86/x64)
Windows Vista / 7 / 8 (x86/x64)
CPU
Pentium IV 2.4 GHz
Core2 Duo 2.6 GHz
RAM
2 GB
4 GB
Disk Space
12 GB
12 GB
DirectX
DirectX 9.0c
DirectX 9.0c
GPU
256 MB, Pixel Shader 2.0
512 MB, Pixel Shader 3.0
Misc
DVD-ROM
DVD-ROM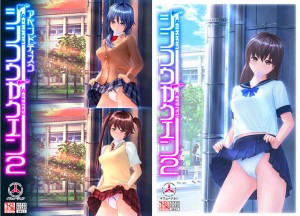 Character Voice
| Personality | Character Voice |
| --- | --- |
| Lively | Hidzuki Hiori |
| Delicate | Aoi Miu |
| Cheerful | Akino Hana |
| Stoic | Ruhana Aka |
| Playful | Misonoo Mei |
| Pleasant | Mamiya Yuzu |
| Kind | Hoshino Mirin |
| Joyful | Itawa Isogami |
| Moody | Yukimura Toa |
| Irritated | Oka Madoka |
| Uptight | Kitami Rikka |
| Sweet | Shirotsuki Kaname |
| Creepy | Kimishima Tooko |
| Reserved | Katakura Hina |
| Dignified | Kimura Ayaka |
| Independent | Narazaki Kanoko |
| Smart | Kasumi Ryou |
| Sincere | Ueda Akane |
| Mature | Kazuha |
| Lazy | Suzune Kagetsu |
| Manly | Kaori |
| Gentle | Shinjuki |
| Positive | Ichigo Miruku |
| Otaku | Houdentei Nodogashira |
| Savage | Aoshima Yaiba |
| Cadet | Yuina |
| Caring | Ayase Yuu |
| Scheming | Umesaki Chari |
| Carefree | Kusuhara Yui |
| Warm | Domon Atsushi |
| | |
Trivia
The Asagaya Station from where the characters arrive and leave is a real location in Tokyo's Suginami ward.
When a murder can happen, the Otaku personality may talk about "ending up in the same boat as Makoto." This dialogue is a direct reference to the School Days visual novel, specifically one of its Bad Endings. (This particular ending was also the one chosen for the School Days anime adaptation).
The (´・ω・`) 'rejected' status originates from the emoticon used by the OP of a viral series of threads posted on 2ch known as Help! The Girl I Like Won't Respond to My Emails