Tech48: Gameplay
From Hgames Wiki
all characters are at least 18
---
Gameplay
General Gameplay
This section is about the general gameplay.
Basic Concepts
Left-click and hold to move around
Double-click or hold Ctrl to run
Right-click to open doors
Pick up coins to get money that you can buy e.g. new hairstyles, dresses, underwear etc.
Move to Save circle at the door station to save.
Move to Shop circle at the door station to shop.
Keyboard Shortcuts
C - switches to first person camera
O - enables/disables background
B - hides the mouse.
Space - Hide HUD
4 - Back to title
5 - Options
I and K - Blur controls
U and J - Bloom controls
P - capture screenshot (printscreen)
M - Status screen
Esc - Quit game
Interface Help
Interface is rather easy and self-explanatory. You can access menu and interact with environment by clicking RMB.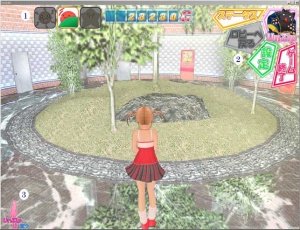 Parts of the HUD:
Time of Day icons (select what time of day you want it to be). In the middle of the screen is gold meter.
(top down, left to right): Clothing menu - yellow. return to door station - blue, game configuration menu - green, exit game - red.
Posture notification icon
Loading and Saving
To save a game, go to the Save circle located in lobby and right-click. Middle-click to load a game. You can have up to 100 saves.
.
Door list
In the "Circle room" (clockwise):
Town (Available at start)
Karaoke (From "Town" map, last door)
Jinja (shrine) (From "Housing Complex" map (forward way), building to the right)
Hospital (From "Front of Hospital" map, 2nd floor last door)
Mountain (From "Rope Bridge" map, small building)
Sea (From "Front of Hospital" map, small building)
School (From "Mountainway" map (road left of the sign), inside building on the right)
Park (From "Housing Complex" map (right way), building to the right)
House (From "Housing Complex" map (building to the right), 2nd floor last door)
In the "T" corridor (left to right):
Ruins (Key on "Underground" map, in the cell)
Hot Spring (Key in shop)
Underground (Key in shop)
Train (Key in shop)
Pirate Ship (Key on "Sea" map)
Japanese House (Key in shop)
Aquarium (Key on "Train" map)
Ring (Key in shop)
Hotel (Key in shop)
Scoring
This section is about scoring in the game. You use coins in shop inside the lobby.
Coins
Small Gold coins = 10 gold points
Large Gold coins = 500 gold points
Large Silver coins = 100 gold points
Blue coins = Convert Gold coins into Silver
Red coins = Initiate Bonus Play time round (after first time you can initiate Bonus Play from lobby (Challenge The Limit))
How do I find red coins?
Red Coins spawn randomly. If you want to have one in particular area just keep going to different area and coming back (notice: sometimes you will need to do it lots of times but it will spawn eventually).
You do not need to restart the game / go back to lobby!
Bonus Play
As you move through the game, you will find special red coins. Picking up these red coins will initiate the Bonus Play time round.
As Bonus Play begins you will notice that a large amount of regular gold coins will appear. You want to gather these coins as quickly as possible.
You will be graded for the amount of coins that you gather. The better score that you receive the more bonus coins you will win.
Bonus Locations
Number of coins represents lowest coin amount for S rank (only in case of ALL its lowest known)
Main Street (with exits to Karaoke and Cafe) - 97 coins
Street with parked car - 65 coins
Street (with exits to Beach and Hospital Courtyard) - 97 coins
Hospital Courtyard - 61 coins
Beach - 75 coins
Shrine - 100 coins
Park - 73 coins
Forest Path Fork - 70 coins
Highland Path Fork - 102 coins
School Courtyard - 71 coins
Hanging Bridge - 125 coins
Pirate Ship - 130 coins
Ruins - 130 coins
ALL (available after getting S rank in all locations) - 1181 coins(15 less than overall sum)
Bonus Rating
The ratings you can get:
D, the lowest rating.
C
B
A
S, the highest rating.
Bonus Awards
Achieving S rank on every normal location will grant you access to ALL bonus stage and also Devil Wings and Devil Horns accessories.
Achieving S rank on ALL bonus location will grant you access to Angel Wings and Angel Halo accessories.
Outfits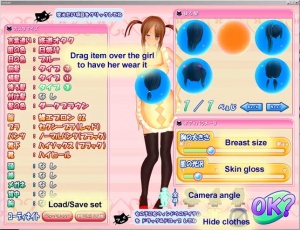 Wearing a complete outfit (cosplay) gives a bonus.
Nurse set: Nurse dress, nurse cap, nurse socks (low white socks)
Bunny set: red bunny suit, red bunny ears, bunnygirl cuffs bracelet, red/purple superhigh sock, heels
Maid set: Maid dress, tiara headband, overknee socks, maid voice
Bandage set: Bandage(bloody) body, bandage(bloody) eyepatch, bandage(bloody) socks, band aid nose
Shop
Shop circle is located in lobby next to save circle. You buy items for gold you collect by running around and collecting coins. You can not sell items. When you click a tab you will see changes on left figure. Also, you can buy keys to extra locations here.
List of tabs:
| | |
| --- | --- |
| Personality / body | Clothes / extras and keys |
| Tone (voice style) | Bra |
| Skin Color | Panties |
| Eye Color | Socks |
| Front Hair | Shoes |
| Side Hair | Head |
| Back Hair | Face |
| Extra Hair | Glasses |
| Hair Color | Back |
| Dress | Arm |
| | Keys |
H
For full article please check H Guide

The H play for this Teatime offering is fairly similar to their other releases. First, when you are in free mode, click the right mouse button. This will bring up the menu HUD. Click on the 'Unzip' button in the upper right corner to initiate fondling mode.
As you move in free play you will notice an icon in the bottom left corner that shows different postures that the girl can assume. Depending upon which posture is showing the girl will enter fondling (and later H) mode in that manner. (i.e.- If the posture showing in the bottom left is 'standing' then the girl will be standing alone when you click 'Unzip')