HaremMate: Technical Help
From Hgames Wiki
all characters are at least 18
---
FAQ & Technical Help
FAQ
Q: The setup freezes. Help!?
A: Unmount the dvd, rename ハーレムめいと.mdf to disk.mdf, delete ハーレムめいと.mds and then try again.
Installing the Game
Quick step-by-step guide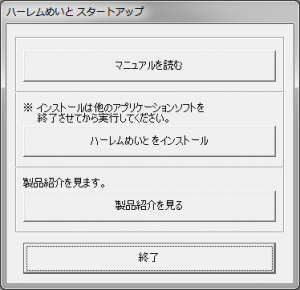 Extract ハーレムめいと.mdf (DO NOT extract the .mds files!) to e.g. C:\Downloads\HaremMate
Rename ハーレムめいと.mdf to DISK1.mdf
Mount C:\Downloads\HaremMate\DISK1.mdf with Daemontools Lite (other mounting software has been known to fail with Japanese games, so please use Daemontools Lite - it's completely free)
DO NOT autorun, but explore the mounted dvd and right-click Startup.exe and select Run with Japanese locale as administrator (you need HF pApploc for the right-click options).
Click the second button from the top (ref. Startup.exe picture) to start the HaremMate setup.
Click (N) again a few times and wait while the setup finishes the installation.
To run the game you need to keep DISK1.mdf mounted and right-click C:\illusion\HaremMate\HaremMate.exe and select Run with Japanese locale.